Key Features a Wood-Fired Outdoor Oven Should Have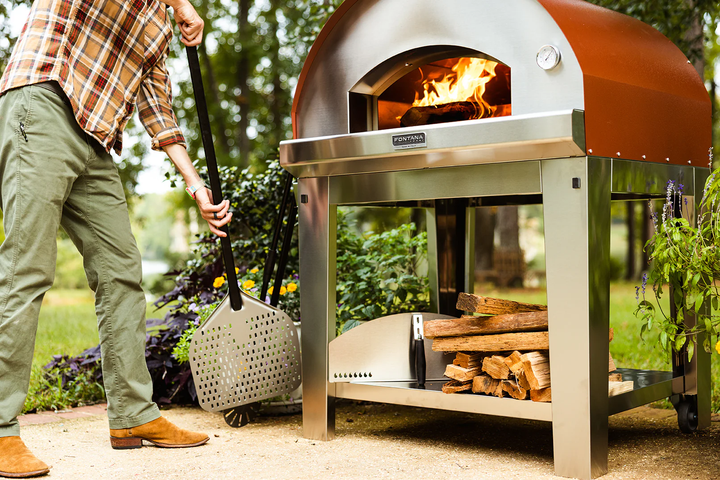 One of the best things about summer is being able to spend more time outdoors while entertaining and cooking for loved ones. If you're looking to take your outdoor cooking setup to the next level, a wood-fired outdoor oven is a must-have.
An outdoor wood-fired oven is a cooking appliance that uses wood as its primary fuel source to heat up the oven chamber while cooking food. It is a traditional method of cooking that gives food a distinctive flavor while not only cooking pizza, but also baking bread and roasting or grilling meat.
These outdoor ovens are great for entertaining guests at home while providing a rustic charm to outdoor cooking. They are also energy efficient, distribute heat evenly, and reduce cook times.
Features of a Wood-Fired Outdoor Oven
To find the perfect outdoor pizza oven, ensure it has the following essential features:
The ability to reach high temperatures quickly, resulting in crispy crusts or juicy meats
Versatile and capable of cooking other dishes such as bread, meats, and vegetables while providing an authentic taste and aroma
Traditional pizza oven design and quality construction to ensure durability and long-lasting performance
Efficient heat distribution that cooks dishes quickly and evenly
Built-in thermometers and adjustable vents
An overall design and aesthetic to complement your outdoor kitchen
Heat Distribution and Temperature Control
The heat source of a wood-fired pizza oven comes from burning wood. A great option for pizza ovens is wood pellets, which are quick to ignite and burn at high temperatures.
Due to the pizza oven's design being a dome-shape, heat is drawn upward, which allows for even heat distribution.
Temperature control can be achieved by:
Adjusting the amount of wood or wood pellets
The placement of wood
Adding or removing wood from the fire
Using a thermometer to monitor the internal temperature of the oven
Proper heat distribution and temperature control are both crucial for achieving consistent and even cooking results in an outdoor wood-fired oven, as well as preventing overcooked or undercooked food. It also ensures that the oven operates efficiently and reduces the risk of damage due to overheating.
Fontana Forni's wood-fired pizza ovens feature a unique cooking chamber design that promotes even heat distribution and retention, resulting in perfectly cooked pizzas and meals every time. The combination of high-quality materials and expert craftsmanship also ensures consistent performance and durability over time.
Insulation
In outdoor wood-fired ovens insulation works by trapping heat inside the cooking chamber, which prevents it from escaping and ensures consistent cooking temperatures. This results in improved cooking efficiency and reduced fuel consumption.
However, with such high temperatures being reached, it is important that the exterior of the wood-fired outdoor oven is also properly insulated to prevent heat from radiating outward and causing damage or posing a safety hazard.
The importance of insulation for heat retention cannot be stressed enough, as it not only ensures even cooking but also reduces the amount of fuel needed to maintain high temperatures, making wood-burning pizza ovens more sustainable and cost-effective in the long run. Additionally, proper insulation can extend the lifespan of the oven by protecting it from thermal shock and preventing cracks or damage.
Fontana Forni's wood-fired pizza ovens have 12 centimeters of insulation surrounding the cooking chamber, which allows for maximum heat retention and cooking efficiency. This design also ensures that the exterior of the oven remains cool to the touch, making it safe to use in any outdoor kitchen setting. 
Capacity and Size
The capacity and size of a wood fire oven will determine how many pizzas you can cook at once, as well as how much space it will take up in your outdoor kitchen area.
When choosing the appropriate size for your needs, you should consider the following:
The number of people you will be cooking for
How frequently you will use the outdoor oven
The types of food you will be cooking
For instance, if you plan on hosting large gatherings or using the outdoor oven frequently, a larger size may be necessary. However, if you only plan on using the outdoor oven occasionally or for smaller groups or want something more portable, then a smaller size may suffice. Additionally, the types of food you cook will also assist in your decision, as some dishes may require more space than others.
Fontana Forni wood-fired pizza ovens are available in various sizes ranging from our medium-sized outdoor ovens which hold two 10" pizzas to our commercial range firing up eight 12" pizzas at a time. Despite having a large interior space, these ovens do not take up a lot of floor room. You can also choose from our selection of countertop or standalone ovens in different sizes and capacities, as well as our gas-fired or wood-burning models.
Durability and Material Quality
When purchasing a wood-burning pizza oven, it is important to research the quality of the material used, as well as the durability of the oven, as this can affect the lifespan and overall performance.
Investing in a high-quality oven made with durable materials can save you money in the long run and ensure that your cooking experience is enjoyable. Fontana Forni's wood-fired outdoor ovens are made from high-quality materials for maximum stability and durability. The electro-galvanized and powder-coated exterior provides excellent corrosion resistance.
Designed and made in Italy by skilled artisans, you can be sure that these ovens are built to last and provide you with an authentic wood-fired pizza experience for years to come.
Versatility and Additional Features
When investing in a product such as an outdoor wood oven, it is important to consider its versatility. Our Fontana Forni USA wood-burning pizza ovens are durable and well-crafted and provide a range of culinary possibilities for outdoor cooking enthusiasts. Not only are they great at cooking pizzas, but they are also able to roast meats, and vegetables, and even bake bread and desserts.
Our wood-fired ovens include industry-leading quality features, such as:
Being 100% designed and Made in Italy
Bent-steel dome construction for maximum stability and durability
12cm of insulation ensuring maximum heat retention and cooking efficiency
Unique cooking chamber eliminates hot spots and ensures uniform heat distribution
Maximum temperature rating of 900°F / 482.2°C, rated the highest on the market
Handcrafted Tradition
Each Fontana Forni wood-burning pizza oven is designed and made in Italy by skilled artisans. We've been making ovens for decades longer than the competition.
Investing in a Fontana Forni wood-burning oven is not only a functional addition to your outdoor space but also a piece of Italian craftsmanship that you can be proud of while entertaining. With a Fontana Forni outdoor oven, you can enjoy a taste of Italy in your own backyard for years to come.
The Advantages of Wood-Fired Ovens from Fontana Forni
Our Fontana Forni wood-fired pizza ovens come with:
Adjustable temperature control
Easy-to-clean surfaces
Multiple cooking racks, allowing for even more versatile cooking opportunities
A variety of sizes to fit any outdoor space
Available exclusively to Fontana Forni as part of our optional extra accessories—authentic Saputo pizza stones, Made in Naples, Italy
Experience the ultimate cooking efficiency with the best wood-fired pizza oven, made of the highest quality of features. Elevate your outdoor cooking experience with Fontana Forni and our impressive range of outdoor wood-fired ovens and accessories.
---

40+ Years of Innovation | 100% Made in Italy
Built to Last | Superior Design & Construction