How to Turn Your Backyard into a Private Pizzeria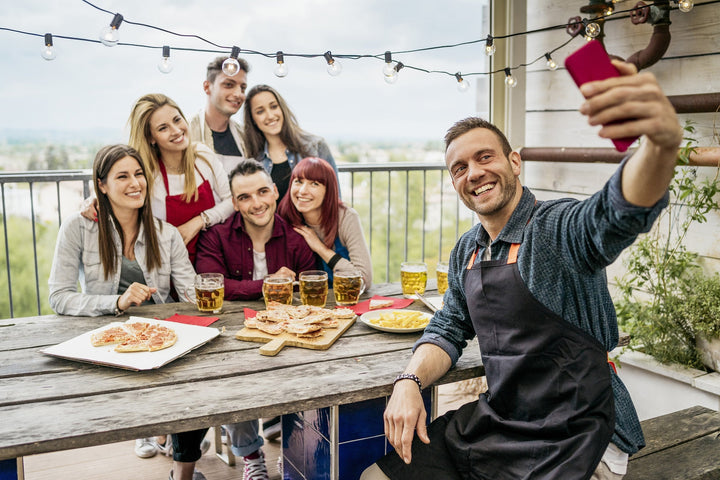 With a little planning and work, you can bring your favorite pizzeria experience home to stay. Here's how you can turn your backyard into your very own private pizza restaurant.
Creating an Outdoor Pizza Kitchen
The first step toward a private home pizzeria is crafting the perfect backyard pizza kitchen. Consider the following tips while planning your backyard remodel.
Start With the Right Backyard Pizza Oven
The pizza oven is arguably the most important feature, so quality is key. Look for an oven with reliable heating, temperature control, and ventilation. Because it will be outdoors, it should be durable and weather-resistant.
You'll also need to consider whether you prefer a freestanding or countertop model. If you have existing outdoor kitchen counter space, a countertop pizza oven may be a good fit.
Stovetop and Prep Space
Consider the other cooking and prep space you may need. A counter or island with a built-in stovetop makes it easy to prepare sides and pre-cook toppings. If space is limited, Fontana Forni's countertop Mangiafuoco oven and Pizza Desk combo. This pairing offers a superior cooking experience with plenty of space for preparing your pizza doughs before they go into the oven.
Add a Wine Fridge
If you're a wine lover, an outdoor wine fridge is an excellent addition. Keep it stocked with a variety of wines that pair well with different types of pizza. This is a great way to create an authentic Italian experience and delight guests.
Incorporate Elements of Italian Design
Use Italian design elements throughout your kitchen. Materials like brick, wrought iron, and stucco are classic features of the Italian Renaissance style of architecture. If you prefer a natural Tuscan style, skip the stucco and opt for stone and wood elements.
Completing the Pizzeria Dining Experience
Along with your backyard pizza kitchen, you'll need an appropriate outdoor dining space. Here are a few ideas for creating your ideal pizzeria dining area.
Plenty of Space for Everyone
Pizza is perfect for sharing, so make sure you can accommodate everyone! If you've got a big family or plan to entertain guests, choose a large table (or combine multiple tables). You'll be able to place everything right on the table, eliminating the need to get up during the meal.
Use Audio to Create Ambience
Add an outdoor sound system for an even more immersive experience. Depending on how you imagine your ideal pizzeria, you can use it to play traditional Italian music, ambient sounds, or even sports radio.
The Perfect Pizzeria Decor
Add the finishing touches with the right decor. Pieces like red gingham tablecloths, tabletop candles, and beautiful wine bottles can create that classic pizzeria aesthetic. Rustic accents like wooden signage and handwritten menu boards also add a traditional, personal touch.
Make Your Home Pizzeria a Reality With Fontana Forni
Our wood-fired and gas-fired pizza ovens are the result of decades of experience, top-quality materials, and authentic Italian craftsmanship. Take a look at our selection and find out why a Fontana Forni backyard pizza oven is the perfect choice for any home pizzeria project.
---

40+ Years of Innovation | 100% Made in Italy
Built to Last | Superior Design & Construction