How to Make the Best BBQ Chicken Pizza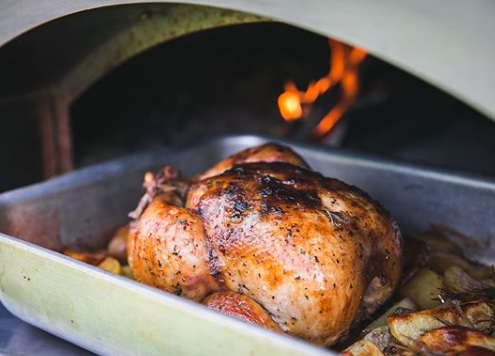 Tender chicken, crisp pizza dough, onions, cheese, and—of course—barbecue sauce make up the typical BBQ chicken pizza. Owning a traditional pizza oven allows you to personalize this highly popular delicacy. Fontana Forni's outdoor pizza ovens, handcrafted in Italy, let your creativity soar to make the perfect Italian-style pizza in your own backyard.
With these tips, you can make the best BBQ chicken pizza in the neighborhood!
Cook the Chicken First
Cooking the chicken in advance ensures it's cooked thoroughly and allows you to prepare it how you want. Place the chicken on its own baking dish or skillet, season it, and put it in the oven. Once it's no longer pink, you can shred or chop it up, and then add it along with other ingredients to the partially baked crust. Return the pizza to the oven to complete the process!
Match the Chicken Rub with the BBQ Flavor
Whether you prefer your chicken sweet, spicy, or garlicky, there's a dry rub for you. Chicken rub can create a taste and aroma that enhances the BBQ flavor. For the best results, apply the rub just before cooking the chicken; otherwise, it can lose flavor, slide off, or create a mushy coating that makes it less appealing.
Make Your Own BBQ Sauce
There are many BBQ sauce brands to choose from, but making your own can be fun. After heating up some oil in a saucepan, add ingredients such as chopped onion, minced garlic, red pepper flakes, oregano, basil, and tomato sauce, as well as tomato paste. You can also get creative with Worcestershire sauce, honey, and apple cider vinegar (here is a tasty BBQ pizza sauce recipe to draw inspiration from).
Mix and Match Your Toppings
Since chicken goes with just about anything, and pizza can be made in an infinite number of ways, why not try some of these toppings?
Buffalo Sauce: It works for wings, and it can add that tangy, addictive quality to your pizza. While you're at it, have some ranch or blue cheese dip handy.
Gorgonzola Cheese: Mozzarella is the standard choice for pizza, but gorgonzola's zesty, salty taste can certainly change things up. Cheddar, ricotta, or provolone cheese work as well.
Bacon: The flavor of bacon along with chicken is a delight for any pizza connoisseur. This mix of meats provides a varied texture while giving your BBQ pizza a burst of flavor.
Other great toppings include bell peppers, roasted garlic, and pesto, which is a perfect match with grilled chicken, but don't be afraid to experiment with others, as you never know what you may discover.
Choose Your Backyard Pizza Oven Today
At Fontana Forni, we combine modern manufacturing with a timeless design to create unique residential and commercial pizza ovens. We make wood fired and gas fired outdoor pizza ovens, as well as countertop pizza ovens, for your backyard. Browse our products or call 877-842-9822 if you have any questions.
---

40+ Years of Innovation | 100% Made in Italy
Built to Last | Superior Design & Construction