How to Host Over the Holiday Season Like a Pro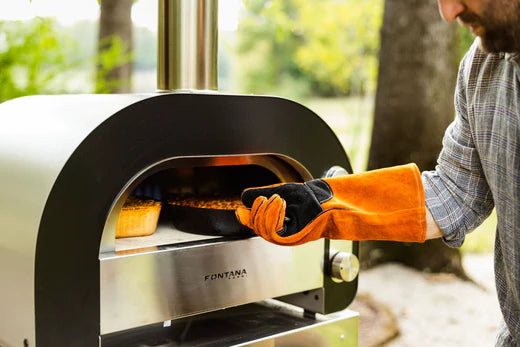 It's that time of the year again, and everyone is ready to get social and celebrate the holiday season. If you're still deciding on how to host an event that wows your guests, don't overlook the magic of an outdoor pizza oven.
An outdoor holiday get-together centered on the cheery fire in your pizza oven and all the treats it can produce is a great way to do something different and create a memorable experience for you and your guests. With just a little planning, you can be the holiday host (or hostess) with the most(est) by planning a fun, unique winter dinner party.
In this guide, you'll find top tips for hosting a wintertime party with your outdoor oven, the best winter-themed party food ideas, and how to make sure your pizza oven-centric gathering is one for the record books.
Five Top Tips for Holiday Hosting
Hosting a Christmas party at home with an outdoor pizza oven may sound challenging, but with a little solid planning and the right set of outdoor hosting tips, you'll make yourself a worthy contender for the winter party host of the year.
Here's everything you need to know to ensure an event your guests won't forget.
1. Plan Ahead

Logistics is an unwavering fundamental element to hosting success. You'll need to know how many guests you'll be entertaining, how you'll entertain them, and whether you're going for a specific theme or just a come-as-you-are, cozy get-together. To perfectly plan your holiday party, remember to:
Start early: Proper planning is synonymous with starting early so you are not only more prepared but less stressed once the day of the party comes around.
Draw up a guest list and decide exactly who and how many people you want to invite.
Choose a theme: Will your theme require your guests to dress up or bring something specific? If so, add this information to your invitations.
Send invitations ahead of time and request a timely RSVP. 1
Look for decor and entertainment inspiration so your party is well-thought-out and well-rounded.
Book ahead of time if you're hiring live entertainment, as the festive season is one of the busiest for entertainers.
Check the weather forecast so you don't end up hosting an outdoor party in the middle of a snowstorm or blizzard.
Have a backup plan if inclement weather should happen.
2. Take the Festivities Outdoors
There's no need to be afraid of the temperature if you're hosting a sizzling outdoor winter party. All you need to do is make sure you've done your preparation. Consider using:
Festive lighting and other decor
Providing blankets or throws in multiple seating areas to help make a cozy social environment.
Set up portable tall standing heaters and/or tents if needed to block chilly winds and maintain heat.
While keeping the indoor area accessible for your guests if they want a break from the cold, create a cozy party area where friends and family can socialize, eat, and enjoy the wintry weather while basking in the warmth from your outdoor pizza oven. 2
3. Choose the Menu
Using an outdoor pizza oven for your holiday dinner party unlocks a range of dishes, with pizza-esque options at the front of the line. While you can certainly make your favorite pizza pie, your options range far beyond this and include roasts, casseroles, baked goods, and fruit pies, all just waiting to be crossed off your outdoor oven cooking bucket list.
4. Set Up a Drinks Station
No holiday host wants their guests standing around empty-handed. Assembling a fun drinks station that offers a range of beverages you know your guests love is a great way to keep them happy at your holiday dinner party. Make sure the station is well-stocked and offering regular top-ups on your guests' drinks is another way to ensure everyone has a good time.
5. Do a Trial Run
Make sure everything, especially the recipes you chose, will be a success at your outdoor winter party by giving them a test run. Invite your family or closest friends over to try the food and drinks you plan to serve. Not only will you have fun testing out your recipes, but you'll also know in advance if you need to adjust any aspect of your party plans to ensure smooth sailing on the actual day of the get-together.
How to Have an Outdoor Party in the Winter

with an Outdoor Pizza Oven
With an outdoor pizza oven, hosting an outdoor winter holiday party doesn't have to be a cold or gloomy affair. You can get your guests involved in the cooking process or assembling holiday pizzas with their favorite toppings. There's also nothing better than standing around the cozy fire of a cozy oven, spending quality time with family and friends, and making lasting memories as you enter the new year.
The Best Holiday Foods Made in an Outdoor Pizza Oven
One of the best yet least-known pros of an outdoor pizza oven is its versatility regarding wood oven recipes. No matter what your menu concept, you'll be able to use your outdoor pizza oven to create scintillating starters, mains, and desserts.
Who's going to say no to wood-fired Pigs in Blankets? They're popular with kids and adults of all ages, and they're easy to prepare and bake for a warm, comfort-food snack or starter.
Add Christmas brie-and-cranberry parcels to your menu to be baked in your pizza oven and offered as a refined canape or starter.
Allow your guests to create the ultimate Christmas pizza by preparing fresh pizza bases with a range of festive toppings like turkey or cranberry sauce. Add some traditional pizza staples like pepperoni and mozzarella for those who want to stick to the staple of their favorite pie.
Finally, you can't go wrong with easy-to-make pizza oven brownies and s'mores to round off a festive feast!
Why Choose Fontana Forni for Holiday Entertaining
Hosting a holiday party with an outdoor pizza oven can be easy, fun, and memorable, regardless of the time of year or season. Fontana Forni is an established industry leader providing top-quality outdoor pizza ovens and accessories that make for unique, innovative, and fun hosting centerpieces all year round. Contact Fontana Forni today and start making lasting memories all year round. 
Sources:
---

40+ Years of Innovation | 100% Made in Italy
Built to Last | Superior Design & Construction