Here's Why Your Pizza Is Soggy in the Middle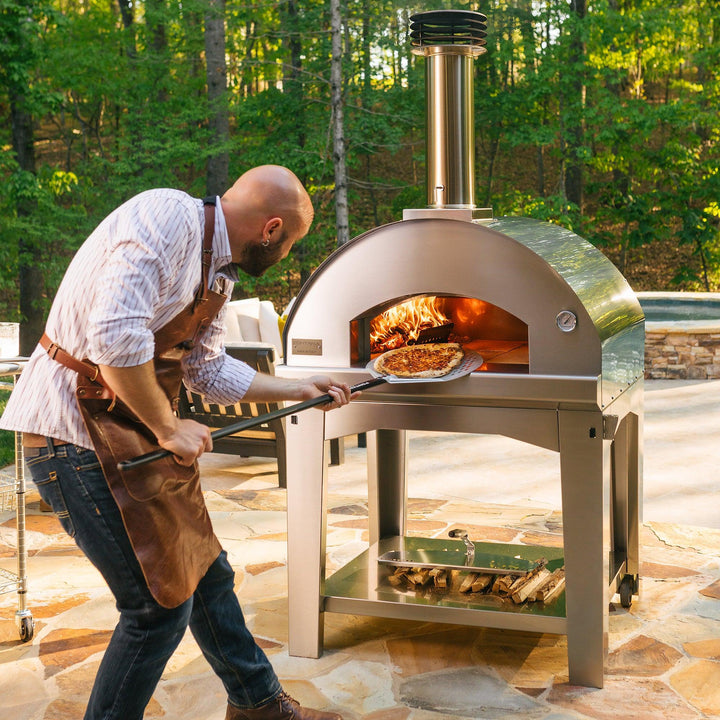 You cannot beat the taste of homemade pizza, especially when you bake it in an outdoor pizza oven. Yet, your hand-made creations can be ruined when you have an undercooked or soggy pizza. There can be many causes why the dough did not fully cook or why the dough is still soggy.
Fortunately, once you know the cause of soggy or undercooked pizza, you can use these tips to resolve the problem and never have to deal with soggy pizza crust again.
Problem #1: Too Many Toppings
Too many toppings can create barriers where moisture cannot escape during baking, resulting in a soggy crust. You should also avoid putting ingredients that release excess water. So, limit your topping to around five or only use sparse amounts.
Problem #2: The Top Is Done, But the Base Is Not
This problem occurs when the oven is not fully preheated, or the pizza is not cooked at the correct temperature. Always ensure the oven has plenty of time to preheat and is at the proper temperature. For example, with a Fontana Forni outdoor pizza oven, you want to preheat it to 700 degrees Fahrenheit before putting your pizza in the oven.
Problem #3: The Sauce Is Too Watery
You want a nice thick pizza sauce since the sauce is in direct contact with pizza dough. If you use a watery sauce, the water seeps into the dough and results in a soggy and underbaked crust.
Problem #4: Not Baking the Pizza Right Away
After making your pizza, it needs to go into the oven right away. If you let it sit too long, the water in the tomato sauce will seep into the dough, resulting in a soggy crust.
Problem #5: You Underbaked the Pizza
Timing is critical to ensure the dough is fully baked. When using an outdoor pizza oven, you need to rotate the pizza every 30 seconds. While the pizza could be done in about 90 seconds, it can take up to four minutes. So, check the base and, if it is not brown, keep rotating the pizza until the base is cooked. 
Problem #6: You Did Not Drain the Water Out of Fresh Mozzarella
Homemade pizza and fresh mozzarella seem like the perfect combination. However, you must drain out the excess water before putting it on your pizza. Slice up the mozzarella, place it on a baking rack, and let it sit for at least an hour at room temperature before using it. You could also cut up pieces, put them in a cheesecloth, and wring out the excess water.
Problem #7: You Didn't Precook Certain Toppings
Certain toppings should be precooked because they will either not be fully cooked or will release excess water during the baking process, including:
Raw Meats – Chicken, bacon, ground beef, sausage, etc., should be prepared before using them to top your pizza.
Onions – You want to saute onions to release excess water and cook them until they are translucent.
Mushrooms – Cook mushrooms until they soften and the excess water has been released.
Leafy Greens – Spinach and other leafy greens should be cooked to get out the excess water.
Problem #8: The Crust Is Too Thick or Too Thin
If you like a pan-style or thick crust, make sure to par-bake the crust first until the dough no longer looks wet and is firm. Then, let it cool before topping it and fully baking it. If you like thin crust pizza, remember to cut your toppings down in half so your crust can crisp up and not remain soggy.
Fontana Forni Outdoor Pizza Ovens
You can say goodbye to soggy pizza crust by avoiding these problems and baking your pizzas in one of our outdoor pizza ovens. Our ovens use old-world craftsmanship and high-quality standards, and they are 100% designed and made in Italy.
Explore our different outdoor pizza oven models today or contact us at 877-842-9822 for further information and assistance.
---

40+ Years of Innovation | 100% Made in Italy
Built to Last | Superior Design & Construction