Here's How to Turn Those Thanksgiving Leftovers into a Pizza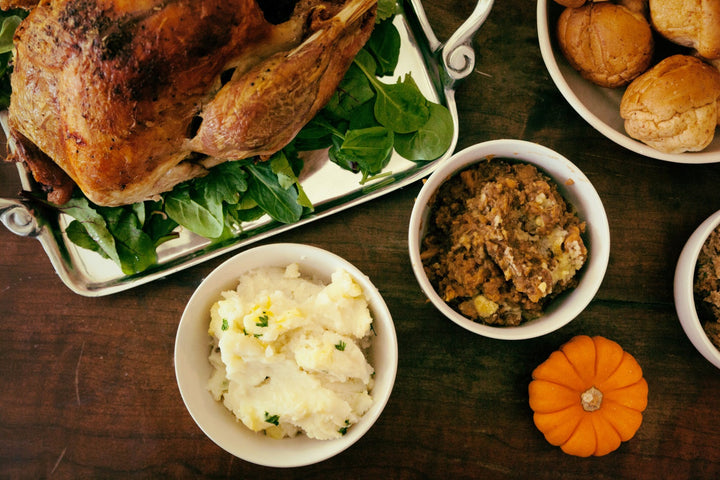 Thanksgiving leftovers are great, but there are only so many times a person can eat the same meal without getting bored. Fortunately, pizza can turn almost anything into a brand new dish in a snap. Here are a few ways you can turn your Thanksgiving Day leftovers into a delicious Thanksgiving pizza.
Tear Up That Turkey
Stuck with a bunch of meat from your least favorite part of the turkey? Use it as the primary protein for your leftovers pizza. Instead of cutting it neatly, tear it up into chunks with your hands for an attractive result that feels more like pulled meat than chopped up leftovers. Torn pieces will also likely be easier to place and arrange than turkey cubes. For an entirely different flavor, you can toss the pieces with barbecue sauce to simulate a slow-cooked barbecue.
Use Gravy as a Sauce
Traditional red and white pizza sauces are great bases for almost any toppings, but leftovers provide an opportunity to get creative! Instead of a typical sauce, ladle some leftover Thanksgiving gravy onto your crust for an extra seasonal taste. Spread it around as you normally would, add the cheese of your choice, and top with other tasty leftovers to achieve your desired flavor profile.
Incorporate the Appetizers
If you've got a few appetizers left over from earlier nibbling, consider whether they might work as an addition to your pizza. For example, slices or cubes of cheese can be cut up and used instead of other shredded cheese. Don't be afraid to get creative!
Top It with Leftover Crunchy Onions
Another Thanksgiving classic, the green bean casserole can be a polarizing figure on your holiday table. Love it or hate it, its crispy onion topping is a versatile ingredient in Thanksgiving leftover recipes. In the case of pizza, it's a quick and easy way to add a simple, flavorful crunch. There's no need to scrape the topping from your casserole; just sprinkle the onions you didn't use onto your pizza and pop it in the oven.
Add Tangy Sweetness with a Drizzle of Cranberry Sauce
Yes, even the sweet-tart flavor of cranberry sauce has a role to play in your Thanksgiving pizza! Once you've piled your toppings high like a doughy dinner plate, finish up with a nice drizzle of cranberry sauce over the entire pie. If you have a sauce with whole cranberries, you can disperse them across your pizza as well. If it's a jellied sauce from a can, you can melt it for easy drizzling.
Give It a Home-Cooked Flavor with a Genuine Outdoor Pizza Oven
Perhaps the greatest finishing touch you can give your Thanksgiving pizza is the smoky, rustic flavor of being baked in a wood-fired oven. With a Fontana Forni backyard oven, you can quickly turn any leftovers into tasty pizzas with crisp crusts and bubbly cheese. Explore our selection of ovens today to find the best outdoor pizza oven for your backyard.
---

40+ Years of Innovation | 100% Made in Italy
Built to Last | Superior Design & Construction