Advice for Designing Your Landscape to Incorporate Outdoor Kitchens and Pizza Ovens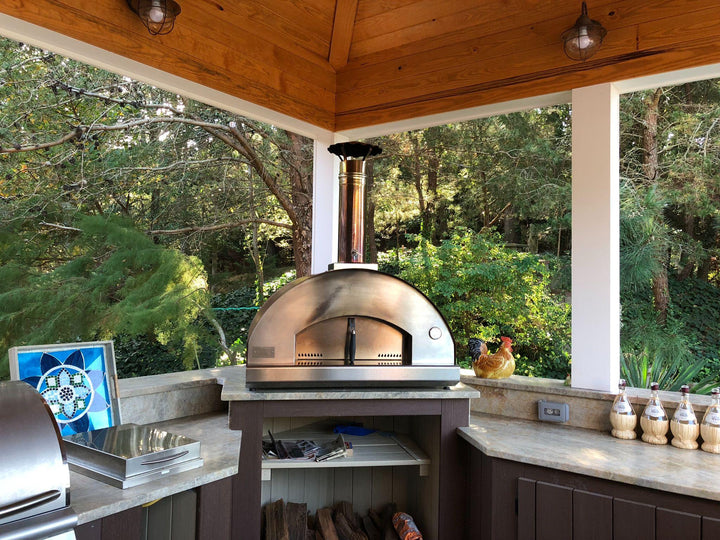 When it comes to transforming your outdoor space, incorporating an outdoor kitchen and a pizza oven can be a game-changer. Not only do these additions elevate your home's aesthetic appeal and value, but they also provide an opportunity to create cherished moments of enjoyment with family and friends.
In this guide, we'll walk you through the essential steps and considerations to seamlessly integrate these features into your landscape design, ensuring that your outdoor space becomes a harmonious blend of functionality and style.
Decide on DIY or Professional Landscaping
Before delving into the specifics of building outdoor kitchens and pizza ovens, it's important to decide whether you'll embark on a do-it-yourself (DIY) landscaping journey or enlist the expertise of professional landscape designers. Both options have their merits:
Pros and Cons of DIY Landscaping
DIY landscaping offers the freedom to express your style and vision. It can also be a rewarding and cost-effective endeavor. However, it requires significant time, effort, and expertise in horticulture and design.
Depending on the complexity of your project, DIY landscaping might involve a steep learning curve and potential challenges in execution which could cost you more in the long run.
Pros and Cons of Professional Landscaping
Hiring a professional landscape designer brings expertise, creativity, and a streamlined process to your project. They possess the knowledge to maximize your outdoor kitchen space's potential and ensure that your outdoor kitchen and pizza oven seamlessly integrate with the overall landscape. While this option might involve a higher upfront cost, it can save you time, mitigate potential mistakes, and result in a polished, well-executed design.
Choose Your Style and Space
Selecting the ideal location for your outdoor kitchen and pizza oven is a pivotal step. Consider the available space, your lifestyle, and how much maintenance you're willing to undertake. To infuse creativity into your landscape design, explore various landscaping styles and ideas from modern outdoor kitchens to cozy enclosed kitchen spaces.
Each style offers a unique ambiance and can be tailored to suit your preferences. Here are a few inspiring styles to consider:
Rustic Retreat
Embrace the charm of a rustic landscape, featuring natural elements like stone pathways, wooden pergolas, and a wood-fired pizza oven nestled amid lush greenery.
Contemporary Elegance
For a modern twist, opt for sleek lines, minimalist aesthetics, and stainless steel appliances. An outdoor kitchen design with clean lines and a state-of-the-art pizza oven can create a sophisticated cooking space that seamlessly integrates with your home's contemporary architecture.
Mediterranean Oasis
Transport yourself to a Mediterranean paradise by incorporating warm earthy tones, vibrant tiles, and a clay pizza oven. This style exudes a sense of relaxation and vacation, making it a perfect choice for creating a serene outdoor dining area.
Entertainment Hub
If you love hosting gatherings, consider a multifunctional entertainment space with a large outdoor kitchen equipped with a barbecue, prep area, and a grand pizza oven. Complement this setup with comfortable seating, a dining area, and ambient lighting for memorable evenings with friends and family.
Pick Portable or Permanent
The choice of ground cover and landscaping materials can influence the permanence of your outdoor kitchen and pizza oven. For a more permanent solution, options like built-in fire pits or gazebos provide enduring focal points.
On the other hand, you can opt for portable features like sunshades or a portable pizza oven for added flexibility. These choices depend on your design preferences, desired maintenance level, the climate in your region, and how you plan to use the space.
Set Your Budget
Establishing a clear budget is essential before diving into your landscaping project. Consider costs for materials, appliances, labor, and any potential additional features. While the investment may vary, remember that a well-designed outdoor kitchen and pizza oven can significantly enhance your property's value and your quality of life.
Consider an Outdoor Pizza Oven
An outdoor pizza oven is a centerpiece that offers not only delectable wood-fired pizza but also a unique cooking experience. Imagine savoring the aroma of freshly baked pizza, pies, or roasts while surrounded by your beautiful garden or patio. For entertainers, families, and aspiring chefs or foodies, no addition will bring quite as much joy as the at-home pizza oven.
Choose a Pizza Oven from Fontana Forni
Fontana Forni draws on decades of Italian craftsmanship to produce a range of stunning pizza ovens perfect for every environment and landscape. From traditional wood-fired ovens to modern stainless steel appliances that use gas, Fontana Forni's collection provides unmatched quality and performance.
Some of our favorite outdoor options include:
The Margherita: This compact wood-fired oven is perfect for cozy spaces and offers an authentic Italian cooking experience.
The Mangiafuoco: With a larger cooking surface, this oven is ideal for hosting gatherings and cooking a variety of dishes beyond pizza.
The Gusto: Combining classic design with modern efficiency, this oven is a versatile choice for those who seek both elegance and functionality.
Redesigning your landscape to incorporate outdoor kitchens and pizza ovens is an exciting opportunity to create a harmonious blend of aesthetics, functionality, and entertainment.
With Fontana Forni's range of high-quality pizza ovens, you can elevate your outdoor space to new heights of culinary delight. Start your landscape transformation today and savor the rewards for years to come. Get in touch to learn more about the ovens we offer and how they can make your landscaping dreams a reality.
---

40+ Years of Innovation | 100% Made in Italy
Built to Last | Superior Design & Construction