A Quick Guide to Different Types of Pizza Sauces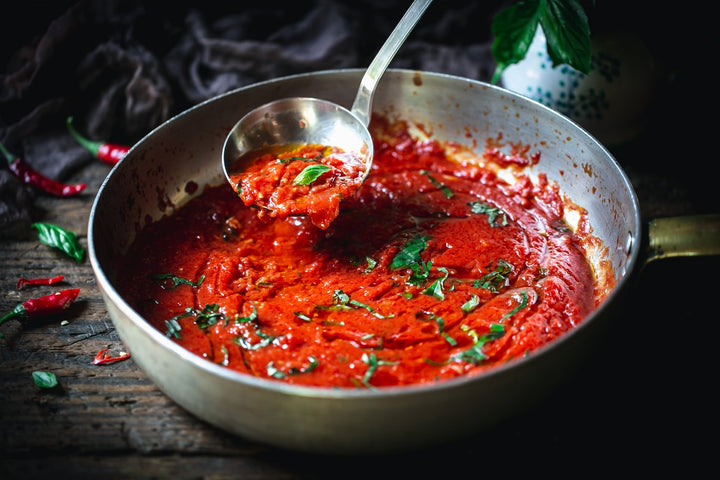 Are you looking to take your homemade pizza game to the next level? You've come to the right place! Sauces are one of the more overlooked components of a pizza—but they don't have to be. We're going to highlight essential pizza sauces and the toppings that elegantly complement their flavors so you can savor every second of your kitchen creations. Let's jump right in.
Marinara Sauce
Marinara is one of the more versatile pizza sauces that you have to choose from. You'll find that marinara is thinner than traditional pizza sauce while containing a more robust taste. The main difference between standard pizza sauce and marinara is marinara's use of cooked tomatoes. Pizza fans regularly utilize marinara sauce to give their recipes a boost of flavor. Fresh ingredients are vital when it comes to producing marinara from scratch. Here are some of the core ingredients that are responsible for marinara sauce's widely appreciate flavor:
Oregano
Minced garlic
Salt
Black pepper
Sugar
Having a go-to marinara recipe on file is useful when you're working to streamline your pizza-making process. 
Spicy Red Sauce
A certain percentage of people might find marinara or traditional pizza sauces a little too bland. Even if you are a fan of marinara or standard pizza sauces, you might be looking to switch things up from your normal cooking routine. Consider using a spicy red sauce to integrate some bold flavor into your next pizza. Meat toppings like pepperoni, mushrooms, and sausage are juicy enough to balance out the kick that a spicy red sauces contain.
Home cooks commonly use crushed red pepper flakes or fried dry red chilies to supply their red pizza sauce with an enjoyable spicy flavor. 
BBQ Sauce
Barbeque pizza sauce's tangy taste can benefit from more toppings than barbeque chicken. Pulled pork and shrimp are two barbeque pizza toppings that will have you reaching for seconds before you know it. Consider drizzling some ranch dressing across your next barbecue chicken pizza to produce a taste that allows you to relish every bite. 
Buffalo Sauce
Our mentioning of ranch dressing leads us perfectly into our next selection. Combine delectable pizza and wing flavors with a homemade buffalo sauce pizza. Shredded chicken or rotisserie chicken slices complement this sauce's original taste. You'll be surprised how easy it is to prepare a buffalo sauce pizza. Keep some extra blue cheese, ranch dressing, and hot sauce nearby to pour irresistible flavor on top of your buffalo sauce pizza whenever you'd like.
Alfredo Sauce
Alfredo sauce isn't reserved for pasta. Parmesan cheese and a wide array of seasonings generate an alfredo pizza sauce's signature flavor. This fact explains why you'll hear people commonly refer to alfredo sauce as parmesan sauce.
Some of these seasonings include:
Parsley
Salt and pepper
Italian seasoning
Garlic
A slightly runny alfredo sauce doesn't mean you've made a cooking mistake. It's natural for your pizza's alfredo sauce to thicken while it cools. Pizza lovers seeking a creamy sauce can't go wrong with an alfredo variety. 
Pesto Sauce
Pesto sauce is a great go-to option when you're looking to pick up some last-minute pizza ingredients from the grocery store. You might even have some herbs or leafy greens stored away at home that you can use to make this sauce.
Pizza chefs making a pesto sauce will generally blend about three cups of herbs and greens with olive oil and garlic cloves. Spinach, parsley, basil, and arugula are some of the herbs and greens that you'll likely be using within a pesto pizza sauce.
Add some salt, pepper, tomato, and mozzarella slices to instantly elevate your next pesto slices. 
Chocolate Sauce
Do you want some pizza after your pizza? Consider making a chocolate sauce dessert pizza when you're looking for new ways to get creative with your cooking. Homemade cookie crusts and candy toppings are surefire ways to turn a chocolate sauce pizza into a masterpiece. Chocolate sauce pizzas give you the freedom to stick to the basics or go above and beyond with your chosen ingredients.  
Become a Wood-fired Pizza Expert Overnight
You don't have to own a five-star Italian restaurant to produce quality wood-fired pizzas. Fontana Forni manufactures outdoor pizza ovens that keep authentic taste within arm's reach.
Head over to our site's outdoor pizza ovens to find the cooking option that's right for you. Home chefs can combine our Mangiafuoco Oven with our Pizza Desk to produce the ultimate pizza creation workstation. Check out our Gusto Wood Oven while you're on our site to learn more about how this oven has been producing exceptional pizzas across Italy since 1978.
Do you have any questions for us? You can contact Fontana Forni through our site's contact form that's located on our Contact Us Page—or you can call us at 877-842-9822 for a more immediate response.
---

40+ Years of Innovation | 100% Made in Italy
Built to Last | Superior Design & Construction