9 Tips for Outdoor Pizza Oven Beginners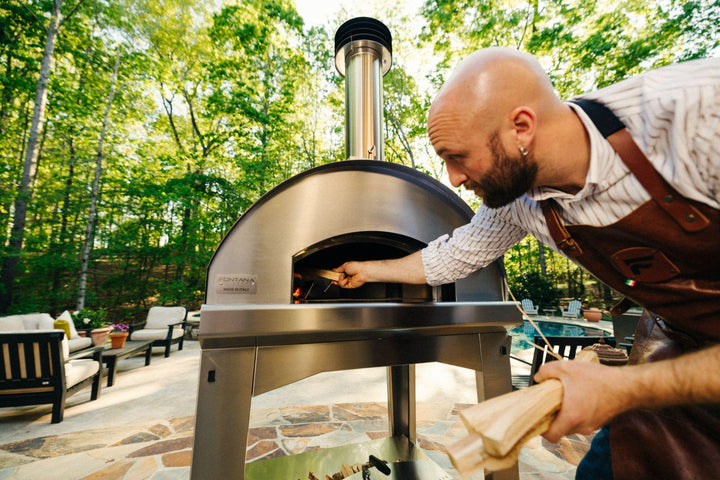 Cooking with a wood-fired pizza oven or gas-fired pizza oven is a different experience than baking pizzas in a conventional oven. There is a learning curve that requires patience and practice to develop your pizza cooking skills. To help you learn how to use a pizza oven, we invite you to check out these tips for beginners.
#1. Take Care of all Prep
You may have heard the term "mise en place," which refers to gathering and preparing all of your ingredients before you begin cooking. So, make sure you have plenty of grated cheese and pizza sauce, and your favorite toppings are all ready to go.
#2. Always Preheat Your Pizza Oven
You need to start the oven early enough so it has time to preheat. A wood-burning pizza oven can take an hour or so to get to the right temperature. A gas-burning pizza oven can take about 30 minutes.
#3. Warm the Pizza Dough to Room Temperature
While your oven is preheating, get the pizza dough out of the refrigerator and let it warm up to room temperature for an hour.
#4. Make Sure the Dough Is Well Floured
Lightly dust the countertop and the dough with flour before rolling or stretching it out. This will make it easy to work with the dough.
#5. Use Corn Meal on the Pizza Peel
Before you can load the pizza and slide it on the outdoor pizza oven stone, you need to transfer it to a pizza peel. Corn meal helps prevent the pizza from sticking to the peel.
#6. Temp Your Pizza Oven
Use a digital thermometer to ensure your pizza oven has reached the right temperature. It should be preheated to at least 700 degrees Fahrenheit.
#7. Load the Pizza
Cooking with a wood-fired pizza oven or gas-fired pizza oven requires the correct placement of the pizza. When starting out, keep the pizza more toward the front of the oven where it is easily accessible.
#8. Rotate the Pizza Every 30 Seconds
To evenly bake the pizza, you need to rotate it about a third of the way every 30 seconds until it is done. Try to keep the pizza in the same position and avoid moving the pizza from the location where you place it.
#9. Have Fun with Your Pizza Oven
Learning how to cook in a pizza oven to make pizzas is just the start. You can also use a pizza oven for slow roasting, slow cooking, baking desserts and bread, roasting, and grilling.
Benefits of Having a Pizza Oven
Having an outdoor pizza oven allows you to make fresh pizzas whenever you want and other tasty meals. They also allow you to host family gatherings and parties with your friends and neighbors. Additionally, once you learn how to use a pizza oven, you will never get tired of using it and having fun making food each time you use it.
Start enjoying homemade, mouth-watering pizzas and other delicious meals with your new outdoor pizza oven from Fontana Forni. Browse our pizza oven models today or contact us at 877-842-9822 for further assistance and information. 
---

40+ Years of Innovation | 100% Made in Italy
Built to Last | Superior Design & Construction