9 Green Pizza Toppings for the Perfect St. Patrick's Day Pizza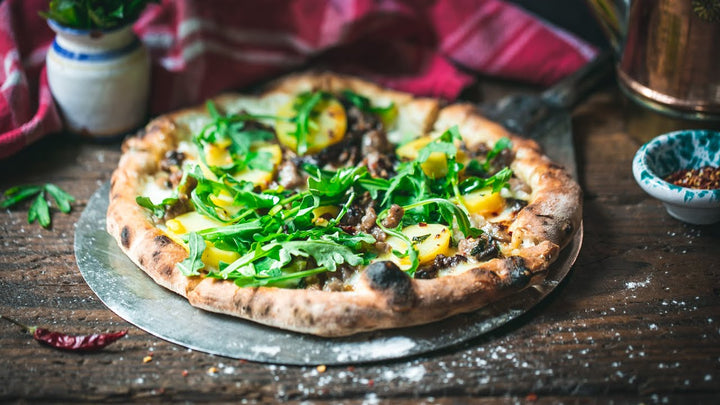 Switch up your traditional St. Patrick's day dinner with a delicious themed pizza that is sure to please your family, friends, and hungry party-goers on March 17th. While corned beef and cabbage are the norm, a creative green pizza for St. Patrick's Day will bring the most popular Italian food in America a fresh Irish update.
Green Pizza Toppings for St. Patrick's Day
Pizza has been bringing people together for generations, and making homemade pizza or decorating a starter pizza is a great St. Patrick's day activity for kids and teens. It is time to get shopping for toppings!
These popular green pizza toppings can be arranged in artistic ways and delicious combinations for an amazing St. Patrick's Day pizza:
Green bell peppers

. Cut rings horizontally to reveal the natural shamrock shape inside, and place on top of the cheese.

Green olives

. Use sliced green olives for salty delicious greenery and traditional flavor on your St. Patrick's Day pizza.

Fresh greens

. Sprigs of spinach, arugula, and basil bring fresh herb flavors and darker green hints of foliage.

Jalapenos

. Sliced in rings and arranged around bell peppers, these look like smaller shamrocks with a kick of mild heat.

Avocado

. After the pizza is baked, it can be garnished with fresh avocado for a rich creamy complement to spicy flavors.

Broccoli

. Blanched broccoli brings green tones and fresh notes to veggie or chicken alfredo pizzas.

Asparagus

. Another unexpected pizza topping, asparagus is highlighted by creamy sauce pizzas and can be used decoratively to represent trees or grasses.

Blue cheese

. A sprinkle of blue cheese on top or as the primary cheese for your pizza gives a soft green color of spring and a sophisticated flavor to your creation.

Pesto

. Using a fresh green pesto as an accent or as your pizza sauce offers a bright flavor and a soft color that brings the picture perfect pizza together.
Shamrock Pizza Crust for St. Patrick's Day
By shaping and even coloring the dough, you can create a shamrock pizza that will amaze and delight your family this year and kick off a new tradition of creative holiday pizzas for all seasons. Take these tips to the countertop and see what a difference the dough makes!
Add crushed spinach to your favorite pizza dough recipe for natural green color.

Use a little food coloring if you prefer a brighter green crust.

Roll and cut the dough to a shamrock shape before baking.

Make tiny leprechaun pizza crusts and let your diners create their own masterpieces.
Bake Your St. Patrick's Pizzas as Part of the Celebration
Traditional outdoor pizza ovens are the perfect way to fire up the fun at your next party or family gathering. Baking your creative creations in a traditional wood-fired or gas-fueled backyard pizza oven not only produces that authentic flavor you want, but it can be a centerpoint of the festivities. Imagine the excitement of hot, fresh shamrock-shaped pizzas coming out of your outdoor pizza oven throughout the party.
Making great pizza all year long doesn't require the luck of the Irish. Fontana Forni professional-grade pizza ovens are built for families and chefs who want the best taste and authentic experience of making pizzas the traditional Italian way. All of the pizza ovens from Fontana feature the benefits of traditional outdoor ceramic ovens with the convenience of portability. Browse our line of world-class pizza ovens to find out more about the best way to bake pizza.
---

40+ Years of Innovation | 100% Made in Italy
Built to Last | Superior Design & Construction