5 Things You Didn't Know You Could Make in Your Wood-Fired Pizza Oven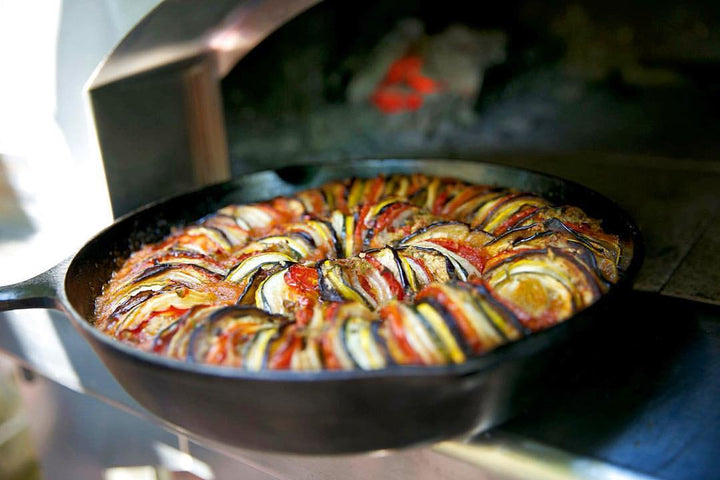 Although it's designed primarily to make a good pizza, your wood-fired pizza oven is capable of so much more. If you're not in the mood for pizza or just want to expand your horizons, here are five other delicious types of dishes you can make in your pizza oven.
Roasted Vegetables
No matter what type of vegetable you're cooking, fire can give it a beautiful texture and smoky flavor. Make delicious roasted root vegetables, asparagus, potatoes, and more for a healthy, nutritious side dish. You can also craft entire vegan and vegetarian meals in your backyard pizza oven, such as baked ratatouille in a cast iron pan.
Meat
Any meat that can be oven baked or fire roasted can be just as easily cooked in a backyard pizza oven. Whether it's a nice beef roast, lamb chops, or even a Thanksgiving turkey, the wood fire will give your meat a rustic flavor and gorgeous presentation. A good pizza oven is designed to heat evenly for consistent results. When used for meat dishes, this even heating and temperature control ensure that it's cooked throughout without any dry spots.
A Variety of Side Dishes
Your outdoor wood-fired pizza oven can also be used to cook a wide variety of side dishes to complete your meals. Veggies, pasta, potatoes, and more can be cooked to perfection on a baking sheet or in a baking dish. Here's one to try: Pile homemade mac and cheese into an appropriate baking dish, top it with shredded cheddar, pop it into your outdoor pizza oven, and watch it become perfectly bubbly on top!
Bread
A backyard pizza oven provides the perfect opportunity to work on your bread-making skills. You can use it to bake full loaves of bread, buns, rolls, bagels, and even pretzels. Not sure what to make? Try classic European recipes like ciabatta and batard for soft, chewy bread with a crisp, crunchy exterior. Or top schiacciata with halved cherry tomatoes for a delicious, fire-roasted flatbread dish.
Desserts
In addition to savory dishes, your pizza oven can be used to create a variety of sweet treats. Dessert pizzas with sweetened crusts and layers of fruit are a good start, but you can also bake all kinds of pies, cakes, tarts, dessert breads, cobblers, and more. You can even bake holiday cookies in your pizza oven and cozy up next to the warm oven while you wait!
Take Outdoor Cooking to the Next Level with a Fontana Forni Pizza Oven
With a wood burning pizza oven from Fontana Forni, you can turn just about any recipe into an outdoor cooking experience. Our ovens are designed to heat evenly and maintain a consistent temperature throughout cooking, resulting in beautifully baked pizzas, juicy meat dishes, and fire-roasted veggies every time. The entire oven and cooking surface are made from durable, easily cleaned materials for years of regular use. Discover our selection of authentic, Italian-made outdoor pizza ovens online today.
---

40+ Years of Innovation | 100% Made in Italy
Built to Last | Superior Design & Construction