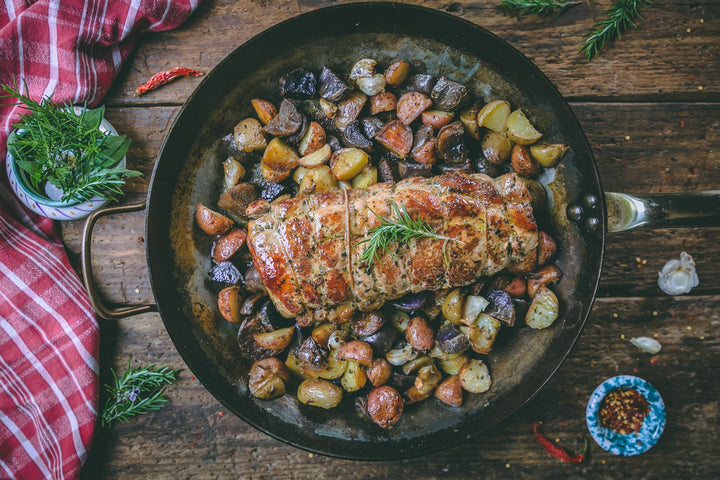 Arista al Forno - Pork Roast
Recipe:
There is just nothing better than a delicious, juicy and full of flavor Pork Roast accompanied by roasted young potatoes and prepared to perfection in the Fontana wood-fired oven.
In Italy, arista di maiale or maiale al forno con patate arrosto, is a classic, iconic Tuscan meal which is usually served as a Sunday meal.  Rubbed with fresh herbs and garlic and drizzled abundantly with olive oil, this flavorful dish is bound to become a favorite in any kitchen. 
Supplies:
Baking sheet
Pan to sear the meat
Basting brush
Cooking twine or elastic food ties
Ingredients:
Meat:
1 pork loin about 1.700kg (3.86 lbs)
Cayenne pepper to taste
2 tbsp sea salt (maybe more)
About 8 small sprigs rosemary minced
About 15 medium sage leaves minced
3 cloves garlic crushed
4 Tbsps olive oil
1/2 cup white table wine
Potatoes:
1.3 kg - (48 oz) young mixed potatoes
1 head garlic "in camicia" 
Salt to taste
Hot pepper to taste - optional
Olive Oil 
Directions:
Finely mince the rosemary, sage and garlic. 
In a large bowl mix the rosemary, sage, sea salt, cayenne pepper, garlic and olive oil.
Place the meat in the same bowl, and thoroughly smother and rub the pork loin with the herb and olive oil mixture.  Cover the meat and allow it to marinate overnight in the refrigerator.
The next day, take the meat out of the refrigerator. Place rotisserie food ties or cooking twine along the loin and allow the meat to get to room temperature.
Preheat The Gusto Wood Oven to 375°F - 190°C. 
Remove the meat from the bowl, scraping off the excess herbs.  Sear the meat on all sides in a preheated pan with olive oil until well browned on all sides.
While the meat is searing, prepare the potatoes.  Bring water to a boil.  Quarter the potatoes. 
Blanch the quartered potatoes for about 5 minutes in the boiling water.
Transfer them into the bowl in which the meat marinated with all the left over herbs from the meat.  Stir everything together with additional olive oil.
Set the seared pork loin in a baking pan and place the potatoes all around the meat.
Check the temperature of the oven, and set the meat and potatoes in the oven for 35-40 minutes.  The internal temperature of the meat must be anywhere between 145-160 °F - 62-71°C.
Remove from the oven allow the meat to rest by wrapping it in aluminum foil.  Slice the pork loin into thin slices with a sharp knife or with a meat slicer and serve immediately.  Enjoy!    
Buon Appetito!
Subscribe to our YouTube channel for more videos! 
Follow us on Instagram and tag us with your culinary magic! We would love to see how you make this recipe!
What is your favorite way to prepare pork? 
@FontanaForniusa   #fontanaovens
---

40+ Years of Innovation | 100% Made in Italy
Built to Last | Superior Design & Construction